Boston Termite Control Service
Termites are among the worst pests you can have in your home when it comes to cost and damages. Because they feed on wood, termites can cause immense structural damage to property, leaving costly repairs in their wake. If you've identified termites in your home or business, you should call a professional termite control service immediately before the problem gets out of hand. Here is some information about termites, and how to identify them:
Termites are very complex creatures that live in organized colonies (let's hope it isn't inside your home) They can cause thousands of dollars worth of damage and can go months before you can detect they are in your home or business.

Termites prove to be particularly dangerous to wooden structures. Termites also have the largest nests of all insects and are even considered tourists attractions in places like Africa and Australia.

Termites have been around for about 250 million years!

Ants and Termites DO NOT get along! Ants love to attacks termite colonies.

Termites are blind, except for termites whose job it is to reproduce.

It costs about $5 Billion dollars yearly in termite damage repair and extermination in the U.S.

Ways to tell if you have a termite infestation:​
Damage to wood in your home or business, in the form of long grooves. (It is best to call a professional immediately if you see this.)

Many same sized wings near windows or thresholds of your home: Termites fly with the sole purpose of establishing a new colony. They do not fly for long distances. Once there are done, they remove their wings and discard them.

Mud tubes, leading to your home or business. These are tunnels made by termites to help protect them from predators when traveling to a food source.
Termite wood damage:
Termite wings: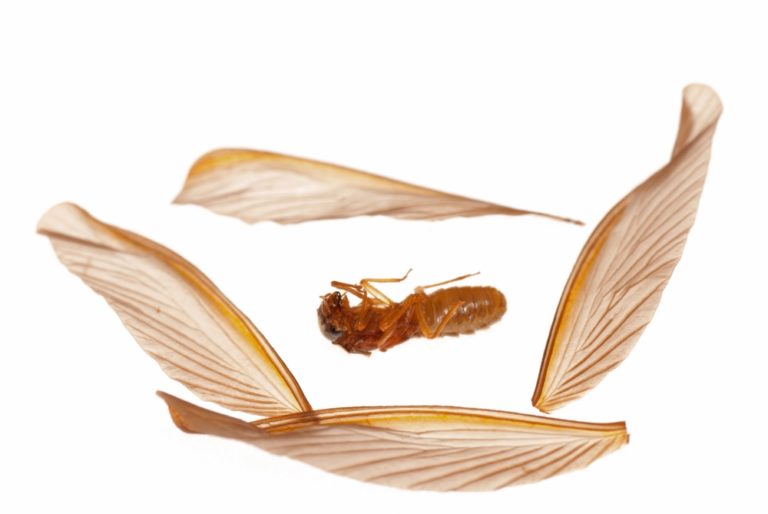 Termite mud tubes: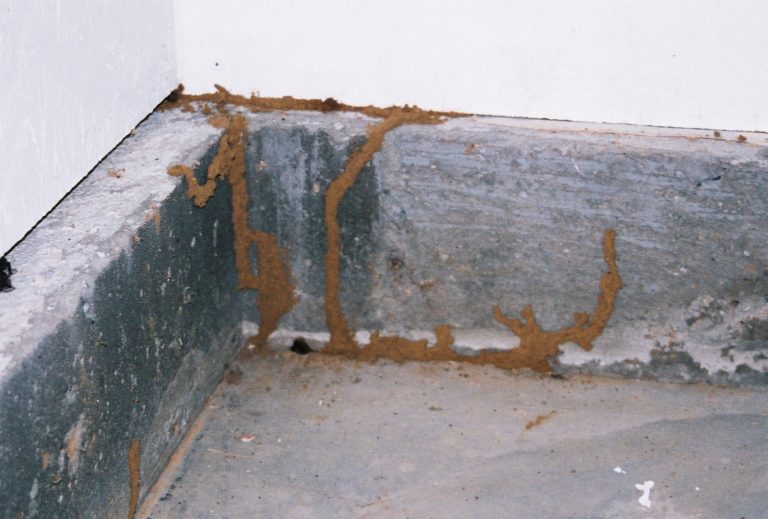 If you identify any of these signs, immediately contacting a professional termite control service could be the difference between a termite free home and thousands of dollars of structural damage. Early detection and treatment is the only way to protect your home from these highly destructive pests.
Ant Control and How to Tell Ants from Termites
Often ants and termites are mistaken for one another due to having similar appearance and colony behavior. Ants are a less serious problem than termites but remain an annoyance to have around the home, especially the species that bite, leaving you with itchy and swollen bumps. Here is some information about ants and how to tell them apart from termites:
There are over 12,00 different species of ants worldwide.

One queen ant can produce offspring in the millions over its lifetime.

Ants leave a trail of pheromones so that they can navigate by the scent

Similar to termites, ants live in colonies that can be made up of thousands or even millions of ants depending on the species.
Ants Vs. Termites
Termites have straight antennae, where ants usually have bent antennae.

Ants have a thin waist that gives them the appearance of having two "sections" of their body. A termites body has a uniform width.

Carpenter ants will burrow into wood, but they do not eat it like termites do, and will not cause much structural damage.

When identifying a winged termite vs. a winged ant, look at the wings. A termite's wings will be a uniform length and much longer than its body. A winged ant will have smaller wings, and the back wings will be shorter than the ones in front.
In summary, the best way to tell ants from termites is to look at the physical features of the creature itself. If you haven't spotted one, look for the telltale signs of termite infestation such as wood damage, dropped wings, and mud tubes to identify them.
---
Boston's Premier Termite and Ant Control Service
Top Pest Control Boston is the number one provider of Boston ant and termite control service. We guarantee our customers healthy, pest-free homes by employing the industry's best exterminators and using cutting edge methods and products. If you have an ant or termite problem, call us before the problem gets out of hand. The earlier we can treat and control the problem, the more money you will save in damages and removal expenses.
If you would like to request a free quote or would like more information about termites, ants, or any other pest, please give us a call or fill out our online form.