Mice Vs Rats: Identification and Extermination
Mice and rats are some of the most frustrating pests to have in your home, Although they can both be equally dangerous to have in your home or business, there are some fundamental differences between the Common House Mouse (Mus musculus) and Black Rat (Rattus rattus). The obvious difference is their size, Rats are larger and are less curious than their smaller relatives. There are also a few differences in behavior between the two Rodents. It can be difficult to tell the difference between the two but armed with the following information you will be able to determine the main differences between the two species and identify them accurately.
Mouse Behavior and Signs of Infestation
Mice rarely burrow and construct nests from soft materials such as furniture stuffing or shredded paper.
Where rats tend to exhibit cautious behavior, staying close to their nests and moving along the same routes every day, mice are curious and tend to explore their environment.
Mice are strong swimmers, jumpers, and climbers.
Signs of infestation include droppings, gnawings, and tracks.
Mice are active at primarily at night.
Mice Vs Rats Identification
The most notable difference between a mouse and a rat's appearance is their size. Mice are 3-4 inches long with a 3-4 inch long tail. Rats are usually between 9-11 inches long, with a tail that is about 7 inches long. Additionally, rats have much larger heads and feet proportionate to their bodies and have much coarser fur. Look at the images below and note the differences between these two species.
Mouse
Rat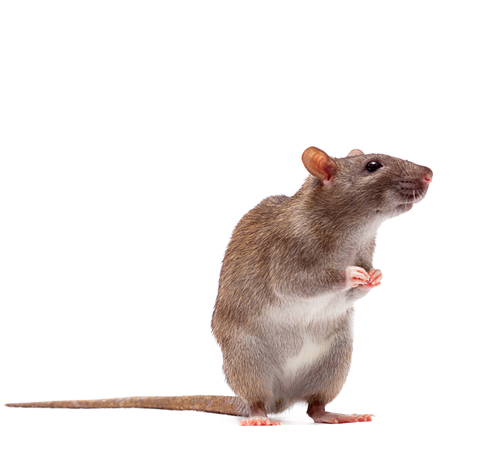 To identify whether you have a rat or mouse infestation without seeing the rodents themselves, examine the droppings. Rat droppings are significantly larger than mouse droppings. Mouse droppings will be roughly the size of a grain of rice, whereas a rat's droppings will be about twice that size.
The Dangers of a Mouse and Rat Infestation
These creatures both carry disease and can grow their population quickly. In fact, a female rat can produce over 70 offspring in just one year, and those offspring will be able to reproduce themselves in only three months. Mice can produce over 60 offspring per year, which will begin to reproduce in only six weeks. It's easy to see how a small mouse or rat infestation can quickly spiral out of control.
Mice and Rats can cause massive amounts of damage to your home or business. They can destroy your food, stored goods, and can ruin the electrical wiring. This is extremely dangerous because it can cause a fire and pose dangers to your family, employees, and guests.
These destructive and disease carrying pests can be extremely difficult to remove without professional help due to their ability to effectively run, hide, and avoid detection. If you've identified a rodent infestation in your home, pick up the phone and call us immediately. Best Pest Control Boston specializes in mouse and rat extermination, removal, and treatment. We can guarantee you a pest-free home at an affordable cost.
---
Professional Mouse and Rat Exterminator Near You
Best Pest Control Boston is your local mouse and rat exterminator in the greater Boston area. We are committed to providing our customers with safe and pest-free homes across the state and guarantee quick, affordable, and professional service.
We also provide proactive mouse and rat control to prevent these unsanitary rodents from getting into your home in the first place. Whether you need rodent extermination now or just want to prevent a future infestation, we specialize in Boston rodent control and can find a solution that fits your needs. Through a combination of live trapping, bait trapping, snap trapping, and long-term trapping methods, we can guarantee that your home stays safe, healthy, and rodent-free. Give us a call today for a free quote, or fill out our online form and one of our experts will contact you shortly.