Roach Exterminator Boston
Cockroaches, also known as (Periplaneta Americana), can be disease harboring and difficult to remove. Who are we kidding, they are downright nasty and a cause for panic. Cockroaches have been around for a very long time, think a few million years, and by a few we mean 300 million years or more. They are resilient and an unstoppable force of nature (until we get a hold of 'em). There are many reasons to get rid of this pest besides that fact that they can make your skin crawl. As the premier roach exterminator in Boston, we are confident that we can rid you of these unwanted guests.
Here is some information on Cockroaches:
Cockroaches can collect disease by scurrying through sewage, decaying food, and overall disgusting surfaces. They can contaminate your food and water by transferring these germs and viruses onto your food and water sources.
It is important to identify which type of cockroach is causing the infestation to be able to provide the proper method of extermination. A professional pest control service will be able to detect and treat the infestation appropriately and quickly.
Signs of an infestation include sightings, droppings (seen below), egg capsules, and also the musty odor of their pheromones.
Cockroach Droppings:
Cockroach Egg Sacs:


Removing cockroaches is not a simple task and requires ongoing pest control to eliminate an infestation. Every home and business present unique challenges for the removal of cockroaches, but our technicians can ensure that we take care of the problem. The first step in any cockroach control operation is identifying the correct type of offender.
Cockroach Identification
The first step to getting rid of roaches in the house is identifying which type of cockroach has invaded your home. There are three types common in North America.
American Cockroach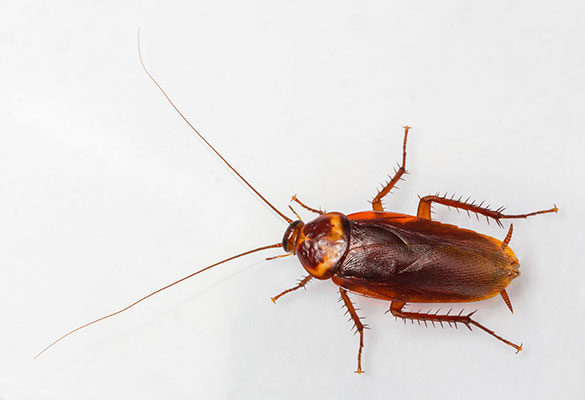 The American Cockroach is one of the larger common cockroaches, measuring up to 1.5'' or more. They are a brownish/yellow color and feature wings which extend beyond their abdomen. They prefer to dwell in dark and moist places, making them common in basements and bathrooms.
German Cockroach
The German Cockroach is the most common roach species in North America. They are slightly smaller than their American cousins on average and are a brownish color with dark streaks. They are attracted to humid environments with access to food and water, making them often encountered in kitchens and bathrooms.
Oriental Cockroach
The Oriental Cockroach is glossy black or dark brown in color, with wings that are a little shorter than the abdomen. Like American and German Cockroaches, they prefer warm, humid environments and can be found in bathrooms, basements, porches, and kitchens.
Boston Roach Extermination
No matter which kind of roaches are infesting your home or apartment, they pose similar health risks in addition to being unsightly. It's essential that you contact a professional Boston roach exterminator immediately to begin treatment of the problem. At Top Pest Control Boston, our team of exterminators specializes in getting rid of cockroaches in your house or apartment.
House Beetle Identification
Beetles are another common pest in the greater Boston area and pose similar health and safety risks as cockroaches, carrying a variety of harmful diseases. Here are the three most common beetles and how to identify them:
Carpet Beetle
As their name implies, Carpet Beetles are most commonly found on carpets, feeding on the fabric. They are small and have a unique pattern made up of brown, white, gray, or black coloring.
Powder Post Beetle
Powder Post Beetles are a menace to wood surfaces, and an uncontrolled infestation can quickly cause significant and costly structural damage to your home. They are identifiable by their long skinny body shape and brown color.   
Sawtoothed Grain Beetle
The Sawtoothed Grain Beetle lays its eggs on foodstuffs, particularly those containing grain such as dry cereal and pet food, and usually enters the home in purchased food. They are identifiable by their brown color and protruding "teeth" along the thorax.
Boston Beetle Extermination
If you have an infestation and are unsure how to get rid of beetles in the house, don't hesitate to pick up the phone and call Top Pest Control Boston. After a thorough inspection, our experts can control your beetle problem and eliminate it for good.
The Number One Provider of Beetle and Roach Extermination in Boston
At Top Pest Control Boston, we specialize in the removal and prevention of cockroach and beetle invasions all over the greater Boston area. If you are struggling and need a roach exterminator that can arrive quickly, take care of your problem, and guarantee a pest-free environment for you and your family, you've come to the right place.
Roaches and Beetles are disgusting and can host and transmit many harmful diseases. We are committed to providing our valued Boston customers with the best service possible at affordable costs and guarantee the results of all our work. Give us a call today and liberate your home from these annoying and unwanted pests.