Bed Bug Facts
Bedbugs, also known by their scientific name Cimex lectularius, are small brownish insects that can wreak havoc on your home and get out of hand quickly. Imagine waking up one morning with several bite marks on your arms, you are confused and scared, you look around your bed, and you see this:
This seems like a scene from a horror movie, but don't worry, Top Pest Control Boston has got you covered! We are expert Boston bed bug exterminators, and we can get rid of the problem before it gets worse.
Let us shed a bit of light on bedbugs, how to identify them, and how they could have gotten into your home. Here are some facts on bedbugs:
Bedbugs are about a quarter of an inch when fully grown.

A female Bedbug can lay 200 or more eggs at a time.

Bed bugs do not have wings. Therefore, they are not able to fly.

These creatures are small and can go into mattresses, box springs, recliners, and even behind wallpaper.

Bedbugs do not always leave bite marks, the best way to tell if you have an infestation is to look for their harborages (where they live).
Bed bugs also leave droppings:
If you've identified that you have a bed bug infestation, it's critical that you call a Boston bed bug exterminator immediately. These creatures are incredibly difficult to eradicate due to their ability to hide in many places, reproducing at rapid rates and spreading throughout the home. For bed bug control to be effective, a thorough inspection needs to be conducted by a trained professional equipped with the proper tools and chemical treatments to find and exterminate all of the invaders.
Bed Bugs and Fleas
Sometimes bed bugs are mistaken for fleas. Fleas are vile pests that feast on mammals. Fleas are small, wingless insects that are brown in color. They are covered with many microscopic hairs and can jump long distances. Fleas typically infest a home by way of pets. There are many kinds of fleas, some that even feed on rats or mice.
One easy way to identify a flea infestation over a bed bug invasion is to observe the creatures. Bed bugs do not hop, jump, or fly, whereas fleas can jump long distances (up to 13 inches). Fleas also have an ovular shape that is longer and skinnier than the flatter bed bugs. In the image below you can see the bed bug (left) is very similar looking to the flea (right), but look closely, and you can see some fundamental differences.
Here is some additional information on Fleas:

You can identify a flea infestation by checking your pets (notice if they are scratching themselves more than usual).

Fleas do not fly but can jump long distances

Flea eggs and Larvae can be much more challenging to treat than merely adult fleas, and eggs can be difficult to locate and require expert treatment (that's where we come in).

Fleas can live up to 100 days without feeding.

There are several variations of fleas, so it is important to call a professional pest control company. Different types of fleas require different methods of extermination.

Fleas can cause tapeworms and anemia in your pets.

Flea droppings (also known as flea dirt) can be found near colonies, this is a food source for the larvae and is similar to coarse dirt in appearance. See example below:


Whether you have fleas or bedbugs, it can be devastating to your family and pets. Let Top Pest Control Boston take them out! We are the number one provider for bed bug or flea control in Boston.
Bed bugs or Ticks?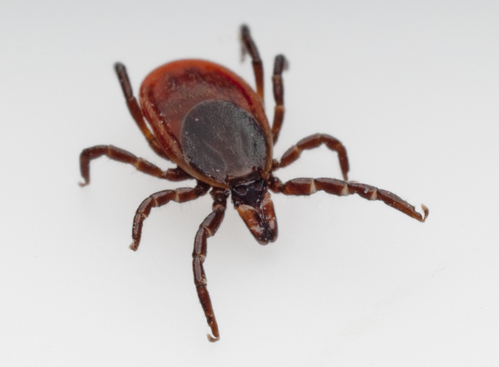 Ticks are small, black or brown parasitic arachnids that belong to one of two different families. The Ixodidae, called "hard ticks" because their shell makes it difficult to crush them, and the Argasidae, called "soft ticks". They usually wait in tall grass or leaves to attach themselves to a host that walks by, feeding on them until full, and dropping off the host to go back into hiding until their next feeding.
Bed bugs and ticks look very similar to one another, but the main difference is that Ticks belong to the arachnid family, having eight legs instead of six. If you observe eight legs, you've got a tick problem. However, newly hatched tick larvae only have six legs before their first feeding so identification can still be troublesome. Ticks also do not have antennae like their mattress-dwelling counterparts. Here are some facts about ticks:
Ticks are tiny, wingless and black or brown in color.

Ticks prefer warm, humid outdoor areas but have been known to infest homes, usually after hitching a ride on a person or animal that resides there.

Ticks will feed on human and animal hosts, unlike bedbugs which prefer to feed on humans.

Unlike bed bugs, ticks can carry and transmit all kinds of nasty diseases, such as Lyme disease, cat scratch fever, and more.
In the image below you can see a full grown tick (left) compared to a bed bug (right):
Your Local Boston Bed Bug Exterminator
At Top Pest Control Boston, we specialize in Boston bed bug extermination as well as any and all of their look-alikes. If you think you may have a bed bug, flea, or tick problem don't hesitate to give us a call. Our expert technicians can conduct a thorough assessment of your home, and come up with a customized treatment solution that will get rid of these awful creatures, and keep them from coming back.
These creatures are annoying, unsightly, and worst of all, potential present serious health risks to your family and your pets. Getting rid of them is difficult due to their small size, ability to hide, and quick and numerous reproduction habits. A home remedy may seemingly get rid of the problem, only to deal with it again in a few weeks or months. When you partner with Top Pest Control Boston, you get our guarantee that your bedbug, tick, or flea infestation will be gone for good. We have the bed bug extermination methods and chemical treatments, as well as the expertise to apply them effectively. Bed bug, flea, and tick control and eradication is our specialty, and our commitment to provide our customers with healthy, pest-free homes guarantees your satisfaction. All you need to do is pick up the phone, and one our experts can be at your door tackling the problem in no time.